"Tell a Yorkshireman how beautiful his county is and you will get no more than a shrug in reply. Like the Texan he already knows and believes implicity that this is God's own county. Grander, more dramatic and undeniably more spectacular than the puny hills of those not lucky enough to have been born in Yorkshire."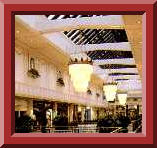 Meadowhall, Sheffield.
Sheffield, famous worldwide for it's stainless steel products, and more recently it's massive shopping centre, Meadowhall. In Anglo-Saxon times Sheffield was the capital of Hallamshire- the most southerly shire of Northumbria. (In modern terms, Hallamshire nestles in the south corner of the old West Riding, on the boundary of Yorkshire and Derbyshire.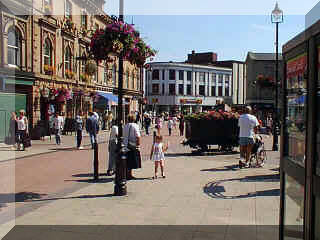 Peel Street, Barnsley
Barnsley is a friendly, bustling market town surround by 127 square miles of beautiful countryside containing some of the most beautiful landscape in South-Yorkshire. It is an excellent centre for exploring the Peak District National Park and to visit Chatsworth House one of England's most beautiful stately homes.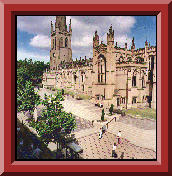 Wakefield Cathedral.
Travelling Northward we arrive at the Cathedral City of Wakefield. A busy pedestrianised shopping centre allows excellent facilities to browse the shops in complete safety, with lots of cafes and restaurants for the hungry traveller. Boasting a thriving market Wakefield is an excellent stopping off point in our Yorkshire journey. Not to be missed whilst we are in the region is the National Coal Mining Museum, at the Caphouse Colliery at Overton, a unique and fascinating museum.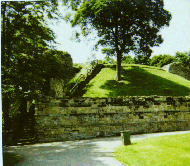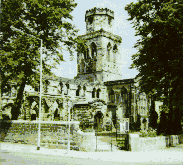 Pontefract Castle.............All Saints Church.
With a population now about 35,000 this historic town renowned for its liquorice 'Pontefract Cakes' confectionery draws visitors from all over the World. With prehistoric and Roman settlements in the area and a castle built by the occupying Norman armies soon after the Conquest in 1066. As well as the Kings Court, Pontefract arracted many religious houses, including a monastery the size and appearance of Selby Abbey. Liquorice was first brought back to Pontefract from the Middle East during the Crusades. At first it was grown as a medical plant; the first sweets date back from the seventeenth century. The ancient church of All Saints was ruined by the Civil War but is still an interesting building, with a rare double helix staircase to the tower.
We now move eastwards towards Bradford and its districts that offer visitors an unparrelled range of attractions spanning history, architecture, the arts, culture, education, fun and general leisure, amongst is the Museum of Photography Film and Television, and nearby at Haworth the Bronte Parsonage.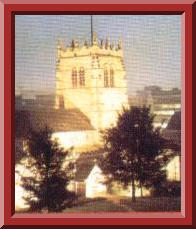 Bradford Cathedral
We now move eastwards towards Bradford and its districts that offer visitors an unparrelled range of attractions spanning history, architecture, the arts, culture, education, fun and general leisure, amongst is the Museum of Photography Film and Television, and nearby at Haworth the Bronte Parsonage.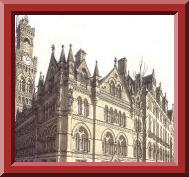 City Hall, Bradford.
The breathtaking City Hall dominates the city centre and boasts outstanding ornate detail on the exterior including statues of 35 monarchs of England, beginning with William the Conqueror, as well as Oliver Cromwell.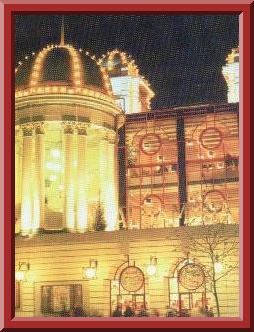 The Alhambra Theatre, Bradford
The magnificent Alhambra Theatre offers top West End shows, plays and pantomimes within its historic settings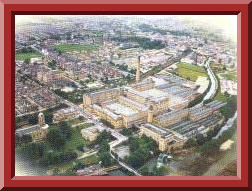 Saltaire
The historic Victorian charm of Saltaire attracts over 750,000 visitors a year.
Titus Salt, the son of Daniel and Grace Salt, was born in 1803 in Morley, near Leeds. His father occupation/s was first of all dealing in chemicals, dyes and edible oils, then he became a farmer near Wakefield before finally settling as a wood merchant in Bradford.
Titus, after following an education at Batley Grammar School, was apprenticed at 17 to a Wakefield woolstapler, and later he joined his father in business and together they began to establish a reputation for using new wools from abroad.
Eventually in 1850 Titus established himself in his own business and was then thought to be the richest man in Bradford.
On becoming Mayor of Bradford he was shocked by the state of the city and it's population; poverty, filth, general squalor and the large numbers of disreputable beer houses. His non-conformist upbringing and moral values were a strong influence on his attempts to counter these conditions and Saltaire became a Utopian village built by a northern industrialist for his labour force.
Mill owner and philanthropist Sir Titus Salt built the model industrial village for the spiritual, physical and moral welfare of the workers. In time honoured Victorian tradition he wanted to cater for his workers needs. So Sir Titus built churches, institutes and schools, as well as a park in which his workers could relax at the weekend.
Saltaire is an amalgam of Salt's name and the River Aire which flows past it. The mill opened in 1853, the village completed by 1871 and boasts over 800 listed buildings. It covers approximately 10 hectares, and the streets are named after members of Salt's family.
Most of the village remains just as it did when Sir Titua Salt died in 1876.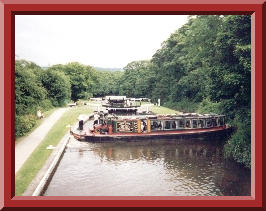 Winding hole to allow narrow boats to turn - Leeds-Liverpool Canal at Shipley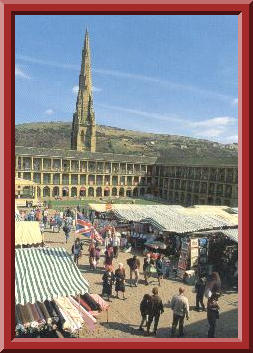 Piece Hall, Halifax.
Halifax in the Calderdale area of Yorkshire built on the cloth trade dating back to the 13th century is regaining its former glory as one of the country's great textiles towns. With glorious architecture, galleries, and theatres. The Towns architectural masterpiece is undoubtedly the 18th Century Piece Hall, with 50 different shops, three weekly markets and an art gallery.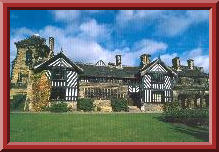 Shibden Hall, Halifax
The 15th century historic Shibden Hall, the ancestral home of the Lister family, contains a collection of 17th and 18th century furniture. Initially, it had five rooms on the ground floor and five chambers above with a smaller room over the porch, but underwent various alterations through the centuries.
Set in 90 acres of parkland it has many attractions including woodland walks, children's rides, a miniature railway, pitch and putt and a boating lake.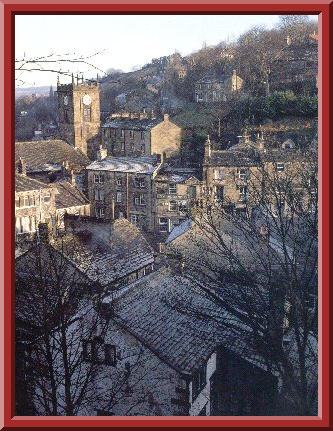 Holmfirth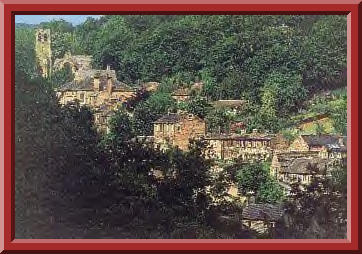 Hebden Bridge.
A few miles from Halifax is the intriguing mill town of Hebden Bridge, where there's much to enjoy: whether it's taking a horse-drawn canal trip on the Rochdale Canal which links Manchester with West Yorkshire or watching clogs being made at Britain's only clog mill.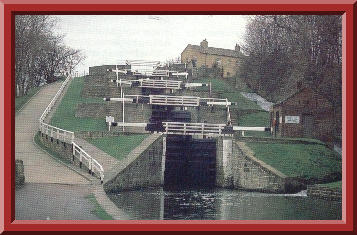 Five Rise Locks, Bingley.
Bingley is a small town in the Aire Valley, just north of Bradford in West Yorkshire's Bronte Country.The Leeds - Liverpool canal passes through Bingley, where boats must negotiate the famous Five Rise Locks. Nearby attractions include the villages of Haworth and Thornton (famous as birthplace of the Brontes) and the beautiful Yorkshire Dales to the North.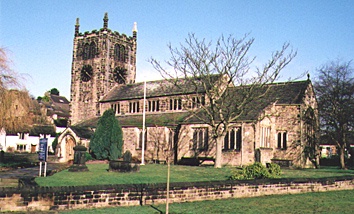 All Saint Parish Church, Bingley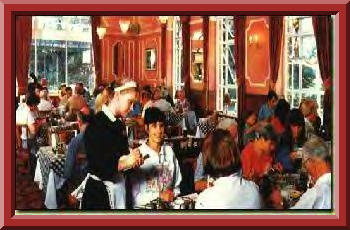 Harry Ramsdens Fish Restaurant, Guiseley, Leeds.
On 20th December 1928 Harry, then 42 years old, borrowed #150 to open a fish and chip shop in Guiseley, Leeds. His astute business mind, Harry chose the ideal location, for Guiseley was the terminus for Leeds and Bradford trams and also the gateway to the beautiful Yorkshire Dales and the Lake District. Starting in a modest green and white painted wooden hut 10 feet by 6 feet (which you can still see on the site to this day) Harry built the business up to become famous both in the United Kingdom and abroad.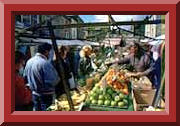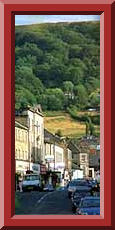 Otley Market...............Main Street.
Ten miles from Leeds presents afrom a dynamic city to the beautiful and undisturbed countryside of Lower Wharfedale. Steeped in history, Otley has much to interest the visitor. The River Wharfe, running through the town provides an ideal location for anglers, bird-watchers or for relaxing riverside walks. Otley Chevin, a geological feature dominates the town.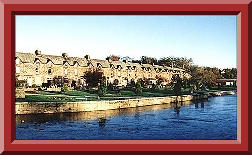 River Wharfe at Otley
More than just a place of outstanding natural beauty , it caters for the rambler, picnickers, horseriders, climbers, dog exercisers and kite flyers or those just looking for a bit of peace and quiet.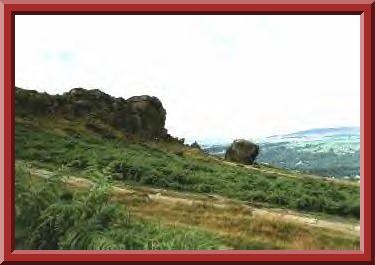 Cow and Calf rocks above Ilkley.

Famous for the Yorkshire Anthem "On Ilkla moor baht tat" ( On Ilkley Moor without a hat") this beautiful town welcomes visitors from all over the world. With scenery so beautiful you just want to sit and gaze at the bubbling steams, sprawling valleys and dales, rolling wolds. Visitors to Ilkley can hardly avoid seeing the distinctive mass of the Cow and Calf rocks. Behind them the moor is rich in the carved stones of our prehistoric ancestors who have left not only their cairns and circles but enigmatically carved ' cup-and-ring' stones and the famous Swastika Stone above Heber's Ghyll, supposedly the symbol of fire worship and the only one of three in the world, the others being in Greece and Sweden. A walk from the Cow and Calf along the edge of the moor will take in all these features.

;