A Yorkshireman's tribute to:
Captain James Cook, R.N.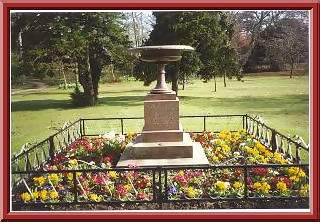 © Photograph courtesy ofJim Moody
The granite vase marks the location of Captain Cook's cottage, Stewart Park, Marton, Middlesbrough, Cleveland, United Kingdom. Henry William Ferdinand Bolkow arranged its installation in 1858. Henry Bolkow's residence (Marton Hall) was built near by in 1853. He was Middlesbrough's first Mayor and first MP, and co-founder of Bolkow and Vaughan iron and steel works (now part of British Steel).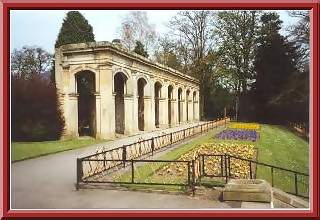 Colonade, Stewart Park, Marton.
Stewart Park, the site of the original Marton village was opened in 1928 by Councillor T D Stewart, Mayor of Middlesbrough in 1920.
Captain James Cook was born on 27th October. 1728, at the village of Marton, near Middlesbrough, Yorkshire, in a thatched cottage built by Cooks father James who was born in Ednam, Roxburghshire, Scotland. Church records in Ednam show that James Cook, Captain Cook's father, was born in 1694 and raised in Ednam, the son of John Cook, a tailor.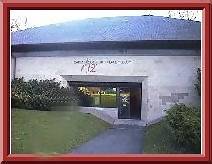 Captain Cook Birthplace Museum, Marton, Middlesbrough
The site of Marton Hall is now occupied by the museum.
Captain Cook's father was a day labourer who eventually worked his way up to become an overseer at Aireyholme Farm on the slopes of Roseberry Topping, near Great Ayton .
(Note: to visit Great Ayton, travel from Whitby on
the A171 then the A173 highways)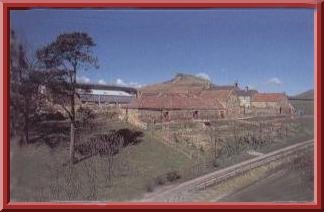 Aireyholme Farm

Aireyholme Farm is still a working farm and can be viewed from a nearby footpath.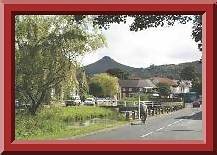 Photograph courtesy of Ayton Old Scholars Association
Great Ayton village with Roseberry Topping in the background
Church records from Stainton-in-Cleveland Parish Church show that James Cook senior married Grace Pace, of Thornaby, on the 10th October 1725, the groom was 31 and the bride was 23. They had eight children, four died in childhood only their second son James and his sisters Margaret and Christiana survived. Margaret married a man named Fleck of Redcar, where in 1771 her father James went to live with them until his death in 1779. Christiana married a fisherman named Cocker of Staithes.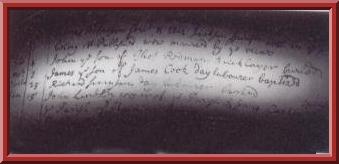 Baptismal record of James Cook
In the church of St.Cuthbert's, Marton, Middlesbrough the register for 1728 shows the entry - "James the son of James Cook day labourer baptized"
Memorial window, St-Cuthbert's Church
On Marton village green there is a stone memorial from Point Hicks in Australia,
the first Australian land sighted by Captain Cook in April 1770.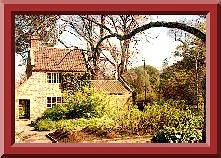 Cooks cottage, Fitzroy Gardens, Melbourne, Australia.
The cottage was purchased in 1934 by Sir Russell Grimwade, it was dismantled and moved stone by stone to Australia and re-constructed in the Fitzroy Gardens, Melbourne as a gift to celebrate the State of Victoria's Centenary Year.
Great Ayton
Photograph by kind permission ofAyton Old Scholars Association
After the family removed to Great Ayton, Thomas Skottowe, the Lord of the Manor of Ayton, who owned the lands on which the Cook family farmed, and who was a benevolent and kindly master, always caring for his tenants, had noticed that the second son of the Cook family, was a bright boy and arranged for him to attend the local village school.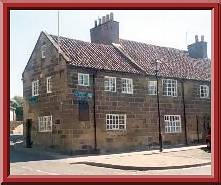 Great Ayton village schoolhouse.
Young James Cook attended this school in 1736 and lived in the village until 1745. A plaque situated on the rear wall of the schoolhouse reads: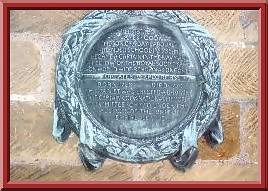 "In this building, James Cook the son of a day labourer attended school in 1736. He became a Captain in the Navy, a fellow of the Royal Society and won worldwide renown as one of the greatest explorers.
Born 1728 - Died 1779
This tablet was erected AD 1914 by the Captain Cook Memorial Committee formed under the auspices of the British Empire League."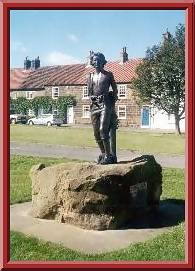 Sculpture of young Cook, Great Ayton village green
The sculpture is the work of the internationally renowned sculptor, Nicholas Dimbleby, and shows James at the age of 16, looking towards Staithes.
It was unveiled on 12th May 1997 by Captain Chris Blake, Master of the replica of Cook's ship HM Bark Endeavour, during the ship's visit to Whitby.
Nothing special characterised his school-days, except that under his Great Ayton schoolmaster, Mr Pullen, he showed a special aptitude for mathematics and also a resolute adherence to his own plans in preference to those of his schoolfellows.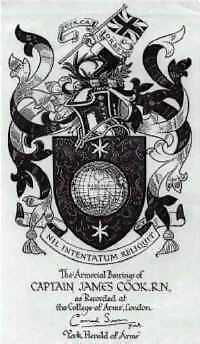 Coat of arms of Captain James Cook R.N.
The coat of arms was awarded to Captain Cook posthumously by the King of England and is the only one ever to include a globe
(centered on the Pacific Ocean) and Polar stars.
The motto reads:
"He left nothing unattempted"
Before he left school, he assisted his father in his agricultural labours and, at the age of sixteen, was placed with Mr. William Sanderson, a haberdasher, at Staithes, with a view to learning his general business. At this fishing place he mixed with seafaring folk which created in him a great desire to go to sea. After a year and a half with Mr. Sanderson, he was bound apprentice for three years to Mr. John Walker, a Quaker shipowner and master mariner at Whitby.
It is not known in which ships he sailed during his first year but in 1747 a new Act of Parliament was passed that decreed that all ships must keep Muster Rolls. From that time, therefore, there is a near complete record of the Whitby (and other) vessels on which Cook sailed.
Cook is known to have sailed on the "Freelove" (1748-1751) in which he made three voyages, and the "Friendship" (1751-1755) all owned by the Walkers employed in the coal trade. The North Sea Coal Trade had developed to meet the ever-expanding need London had for coal and it was this that introduced Cook to London as the colliers sailed up the Thames to discharge the coal at the wharves along the north bank of the river, east of Tower Bridge.
Cook possibly stayed at the Bell Alehouse near Execution Dock in Wapping, which was owned and run by the Batts family.
In 1762 the Batts' daughter Elizabeth married James Cook.
In the course of his apprenticeship, Cook spent several intervals at Whitby, chiefly in the winter when the vessels were usually laid up. According to custom, he lodged in his master's house in Grape Lane where the housekeeper allowed him a candle to read by himself while the other apprentices were spending their time in amusement.
Captain Cook Memorial Museum, Grape Lane, Whitby.
There is a tablet in the front wall of this house facing the street; the initials are those of the probable owners of the house at the inscribed date - Moses and Susannah Dring. That eagerness for knowledge which grew so rapidly in his future life then began to take deep root and after several voyages'before the mast' his studious habits were recognised. During the war with the French in 1755, he enlisted as an Able Seaman on the Eagle. Within a month he was promoted, because of outstanding ability, to Master's Mate.
Four years later he was promoted to Master.

St.Lawrence River, Canada
In command of his own ship, James Cook performed a crucial charting of the St. Lawrence River in Canada, which made possible the great amphibious assault upon Quebec City in 1759. In 1763 he was given command of the schooner Grenville to survey the eastern coast of Canada over a four year period. These excellent charts were used until the early part of the 20th century.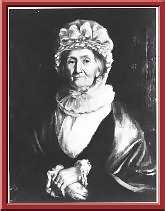 Elizabeth Cook (nee Batts) 1740-1835
In 1762 he married Elizabeth Batts at St.Margaret's Church Barking, Essex. The couple made their first home at 126 Upper Shadwell and their first child was baptised in St. Paul's Church, Shadwell. When James Cook returned from a voyage to Newfoundland the next year in 1763, the family moved one kilometre north to a new home at 7 Assembly Row on Mile End, between the London Hospital and Stepney Green. Assembly Row remained the Cook home until Elizabeth Cook moved to Clapham in 1788. The houses occupied by Cook have disappeared but plaques mark their locations. They had six children, James, born 13 October 1763, Nathaniel, born 14 December 1764, Elizabeth born 1767, Joseph, born 26 August 1768, George, born 8 July 1772, Hugh born 23 May 1776.
Captain James Cook and four of his marines were killed by the natives of Owhyee, one of the Sandwich Islands, on 14th February, 1779.
His remains, which the Hawaiian Islanders were compelled to deliver up, were committed to the deep in Kealakekue Bay a week later.
Elizabeth, survived her famous husband by 56 years, outlived her children and was alone for the last 40 years of her life. She last saw Captain Cook as he set off on his third and fatal voyage. It was 20 months after he was killed by natives in Hawaii in 1779 before she new of his death.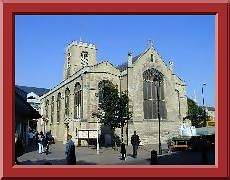 Great St. Andrews Church, Cambridge.
Elizabeth died at the age of 94 on the 13th May 1835 at her residence in Clapham, Surrey. Her remains and those of her sons James and Hugh are buried in the middle aisle of the church of Great St. Andrews, Cambridge.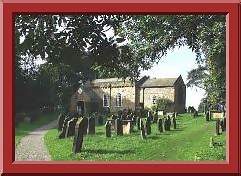 All Saints Church, Great Ayton.
Photograph by kind permission of Ayton Old Scholars Association
James's mother Grace is buried with her five other children at All Saints Church, Great Ayton near Middlesbrough.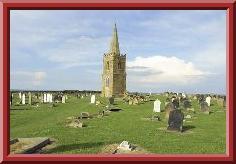 Photographs used with the kind permission of Richard B. Mann
At Marske-by-the-sea, the tower of St. Germain's Church overlooks the grave of James Cook senior, who died six weeks after his son was killed,
without ever knowing the tragic news.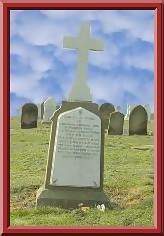 The gravestone pictured above marks the resting place of John James Robinson and also the resting place of James Cook, the father of Captain James Cook.
The inscription reads as follows:
John James Robinson of Blenavon House who was lost at sea
Sept. 9th 1904 age 22 years.
This stone is erected by his Father and Mother and to mark the spot where James Cook Father of Capt James Cook R.N. the circumnavigator was buried Apl 1st 1779.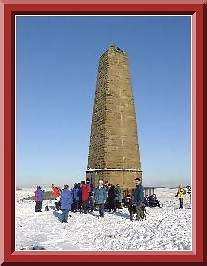 Photograph courtesy of Don Burluraux
Cook Monument, Easby Moor, Cleveland, U.K.
A monument was erected to the memory of the gallant explorer at Easby in Cleveland in 1827 by Mr. Robert Campion of Whitby.