A Yorkshireman's tribute to

Captain James Cook, R.N., F.R.S.

1728 - 1779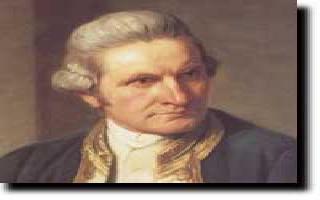 Captain James Cook, Royal Navy
"Captain James Cook - the ablest and most renowned navigator
this or any country hath produced.

He possessed all the qualifications requisite to his
profession and great undertakings."
Lord Palliser, Cook's superior in the Royal Navy
Captain James Cook's achievements were remarkable.
He mapped the Pacific Islands, discovered the Sandwich
Islands (now the Hawaiian Islands),
circum navigated Antarctica, charted the North and South Island
of New Zealand, and was the first European to sail and chart the
eastern coastline of Australia.
Captain Cook was the first to circumnavigate
the world in both directions.
His charts are so accurate that they can still be used to this day.

HM BARK ENDEAVOUR'S VISITS TO WHITBY



Member of the Captain Cook Society

-->

L3xicon.com - a web thesaurus and lexicon listing stickerman1.tripod.com/cook.htm under
captain cook, royal navy and endeavour
Changing LINKS
Malcolm
stickerman2@gmail.com